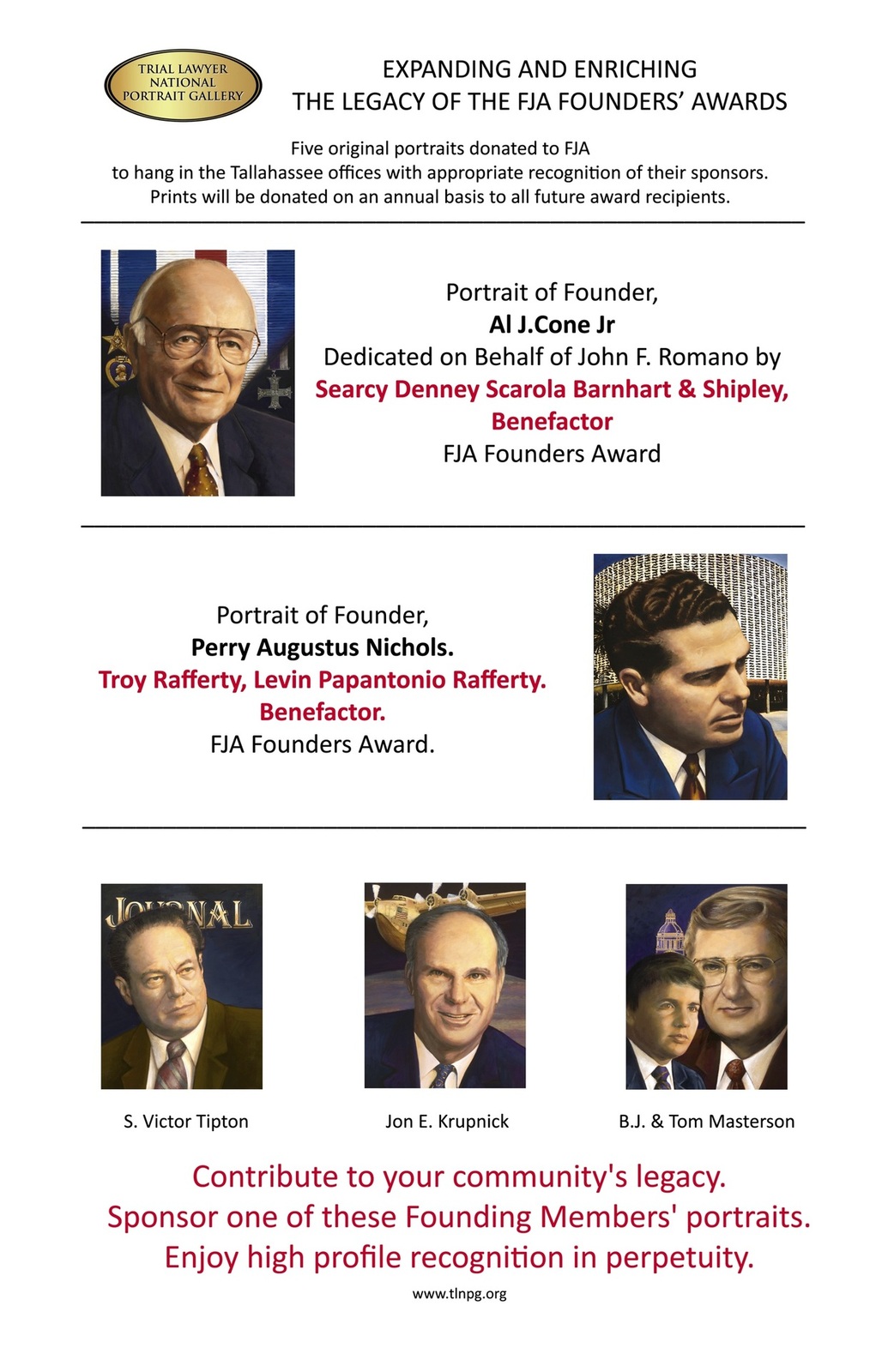 Florida Trial Lawyers and Champions Of Justice Recipients To Be Awarded Original Art by Portrait Painter Trevor Goring.
Portrait Painter Trevor Goring Will Be Presenting His Original Art Of The Founders To The Honorees At The Florida Justice Association (FJA) In Amelia Island FL For The Masters Of Justice Awards Event
Amelia Island, FL. FJA will be hosting their annual Founders Awards Luncheon in northern Florida at the Ritz Carlton-Amelia Island, Florida, from September 21st through the 23rd, 2022. The annual event attracts the leading consumer justice injury attorneys from the state of Florida along with some of the top civil justice court jurists and Florida legislators. This continuing legal education seminar will also recognize individual civil justice injury attorneys, who are dedicated to pursuing justice for their clients that have been injured by the negligence of another at their annual Masters of Justice Awards (MOJ) event.
Perry Nichols Award
Created in 1977 in honor of the visionary who first brought Florida's leading trial attorneys together to create the Negligence and Compensation Lawyers of Florida, the predecessor to today's Florida Justice Association. It is the most prestigious award given by the organization and is given to the attorney whose perseverance, commitment, and unmatched dedication to the civil justice system is at the forefront of their lives. The award is bestowed upon the attorney who sets the standard for the rest of us to aspire to achieve.
Al J. Cone Award
The first president and founding member of the Academy of Florida Trial Lawyers, as it was known back then, and the founder of FLAG, now the Florida Justice PAC, was Al J. Cone. He had the vision to see a need for a statewide association of trial attorneys and dedicated his life to the civil justice system of our state. Al's lifetime of service to the FJA and the Florida consumers spanned nearly five decades. This award was created in his honor to pay tribute to an attorney who has pledged their life to uphold consumer rights and fight for justice. The award reads: "A career of leadership; A career of example setting; A career of devotion; A career of courage." The award must be a leader, dedicated, and poised not only for personal achievement as an attorney, but also success as an individual.
Jon E. Krupnick Award
Jon E. Krupnick Award was named in honor of the perseverance and fortitude of its namesake, Jon E. Krupnick. Jon spent 15 years representing a four-year-old girl in an extremely lengthy case. This award was established in 2000 to honor his determination in pursuing justice, no matter how difficult a task it may be or how long it may take. The recipient of this award must show the same steadfast commitment to achieving justice for the weak, the vulnerable, and the injured and the patience to wait on the results.
B.J. and Tom Masterson Award
B.J. served the legal community with the highest degree of ethical professionalism. B.J. established a reputation for holding himself and his practice accountable to the highest ethical standards. The Florida Justice Association established the B.J. Masterson Award for Professionalism in his honor in 1996 to pay tribute to his values and esteemed character.
Tom practiced law in St. Petersburg for 44 years. For the first 19 years of his career, he practiced with his father, Barney Masterson, who founded the firm in 1963. Tom emulated the professionalism of his father in every way by practicing law in the same way he lived life – with modesty, honesty, integrity, good humor, and respect for all. Tom was a highly respected, board-certified trial lawyer and beloved member of our legal community. He was actively involved in many legal organizations during his career and served in many leadership roles, Tom was a widely published author of legal teaching aids and a frequent guest lecturer at civil trial and professionalism seminars. He received numerous awards and honors during his career, including the Professionalism Award from the St. Petersburg Bar Association and most notably, the BJ Masterson Professionalism Award from the Florida Justice Association.
The S. Victor Tipton Award
The S. Victor Tipton Award is awarded for superior achievement in legal writing. This award is given in honor of S. Victor Tipton, Founder, and Editor of the FJA's Journal. Tipton is also a founding member and former President of the FJA. Tipton has been a valuable voice and guiding spirit for the FJA since its inception.
Ruth Bader Ginsburg Award
The Ruth Bader Ginsburg Award exemplifies and embodies excellence in the practice and the spirit of law.
2022 Masters Of Justice Event
This year, for the 2022 Masters of Justice Awards Gala Event, Canadian Portrait Painter Trevor Goring has been authorized by FJA and has agreed to paint and donate portraits of the Founders and Champions of Justice of the Florida Justice Association (FJA). These awards were created in honor of the past leaders and founders of the FJA and are given on an annual basis to the members that best exemplify the qualities of these past leaders and to expand and enrich the legacy of the FJA Founders Awards Event.
The Trial Lawyer National Portrait Gallery (TLNPG) has completed the original portraits of S. Victor Tipton, Jon E. Krupnick, B.J. Masterson, Al J. Cone, Perry Nichols, and Ruth Bader Ginsburg.
The TLNPG will donate these painted portraits of the founders to FJA, to be hung in the Halls of FJA Tallahassee offices.
The TLNPG will donate, annually and in perpetuity, limited edition prints of these portraits to all future award recipients.
The Portraits of these great Champions of Justice and the Founders of the FJA will be commissioned by patrons of the TLNPG who are legacy members of the FJA. This year to date, Benefactor Troy Rafferty of Levin Papantonio Rafferty has commissioned Trevor Goring for the Perry Nichols painting.
https://www.levinlaw.com/attorney-profiles/troy-rafferty
The Al J. Cone painting is dedicated in honor of John Romano on behalf of Searcy Denney Scarola Barnhardt and Shipley, benefactor. "The commissioning of the portraits of these great Trial Lawyers of the FJA will enhance the prestige and legacy of all future recipients who will be recognized at the annual Masters of Justice FJA Founders awards event" -Trevor Goring Canadian Portrait Painter.
https://romanolawgroup.com/attorneys/john-romano/
About Trevor Goring
Trevor Goring is the executive director of The Trial Lawyer National Portrait Gallery(TLNPG), and an International portrait artist, author, publisher, lecturer, and speaker.
A graduate of Saint Martin's College of Art, London, UK, Trevor started his professional career exhibiting in galleries and museums while teaching at the Montreal Museum School of Fine Arts.
He along with his wife published one of the first French language arts and cultural magazines in Quebec called, " Virus Montreal '' with a newsstand monthly circulation of 50,000,
He also co-founded a national Canadian arts organization and directed a major public arts center for over a decade. He served on the Eastern Canada Rhodes scholarship selection committee for three consecutive years.
He has attended over 500 litigation conferences, lectured in Paris and across the United States, published two legal art history books and written numerous articles for print, and has appeared in electronic media, like USA Today, Yahoo Finance, Law.com, and many others.
His works have appeared on scores of magazine front covers, in several widely used legal textbooks, and are to be found in hundreds of private, public, and corporate collections.
"The Images of Justice project" is a legal portrait gallery collection drawing on Trevor Goring's 30-plus years of exploring the visual history of law. His original paintings, prints, books, videos, and lectures portray famous trials, great jurists, icons, and symbols of justice from the earliest times.
The gallery is rapidly expanding as museum-quality portraits of renowned criminal defense attorneys and plaintiff civil litigators.
In 2017 Trevor Goring merged "Images of Justice Project" into The Trial Lawyer National Portrait Gallery, with a mission to tell the story and ensure the legacy of great trial lawyers throughout history. The Gallery portrays the courage and dedication of those who strive for justice in the courts, who defend the right to trial by jury, and who fight for the rights of the most vulnerable.
2021 Masters Of Justice Event
Last September 23, 2021, I was honored to attend the MOJ Gala Event held at the Ritz Carlton in Sarasota Fl. It was a first for me to witness an event where every recipient being honored was a woman, for an association historically male-dominated they have come a long way in recognizing the efforts and achievements made by women. The Florida Association of Justice (FJA) is by far the most important and active consumer advocacy organization in Florida. Key takeaways at FJA's Masters of Justice award ceremony, seven exemplary women of honor committed, dedicated, and leading the way in the Florida Civil Courts, recognized for their life's work helping Floridians by upholding Justice!
Last year's honorees included former FL Supreme Court Justice, Peggy A. Quince the first African American woman appointed to the Florida Justice Supreme court bench and recipient of the top award for excellence, Julie Kane of Colson, Hicks, Eidson law firm, a leading Miami injury lawyer and past president of the American Association of Justice (AAJ) the largest civil justice organization of trial lawyers in American, Leslie Kroger, partner at Cohen Milstein and past president of FJA, Justices Bertilla Soto and Jennifer Bailey circuit court judges and co-recipients, Karen Gievers, first women president to lead the FJA and retired 2nd circuit justice and appellate lawyer Meagan Peek Luka, all recognized at the 2021 MOJ Gala Event.
2021 Perry Nichols Recipient
Justice Peggy A. Quince was the second African American and first African American woman to be appointed to be a Florida Supreme Court Chief Justice (from July 1, 2008 to June 30, 2010), she remained on the court until January 8th 2019, forced into retirement by term limits, and also she has the distinction of being the first African American appointed to both the Florida Supreme Court and one of the Florida district courts of appeal.
She has been active in several legal and civic organizations including, most recently, The Florida Bar, The Florida Association for Women Lawyers, Tallahassee Women Lawyers, Tallahassee Banisters, and the Williams H. Stafford American Inn of Court. Chief Justice Quince was recognized as a pioneering woman in the law by the American Bar Association Commission on Women in the Profession with the 2006 Margaret Brent Women Lawyers of Achievement Award. On March 13, 2007, she was inducted into the Florida Women's Hall of Fame. In 2004, she received an honorary doctor of laws degree from St. Thomas University School of Law and Nova. In 1978 she opened her law office in Bradenton, Florida, where she practiced general civil law until 1980. In February 1980, Justice Quince began her tenure with the Attorney General's Office, Criminal Division. As an assistant attorney general, she handled numerous appeals in the Second District Court of Appeal, the Florida Supreme Court, including death penalty cases, the Eleventh Circuit Court of Appeals, and the United States Supreme Court. Her thirteen and a half year tenure at that office included five years as the Tampa Bureau Chief. Additionally, three years were spent handling death penalty cases exclusively, on direct appeal and in post conviction proceedings. Justice Peggy A. Quince was born in Norfolk, Virginia, in 1948. Married to Fred L. Buckine, attorney at law (retired), and mother of two daughters, Peggy and Laura, Justice Quince graduated in 1970 from Howard University with a B.S. Degree in Zoology; she received her J.D. Degree from the Catholic University of America in 1975. While a law student she was active in Phi Alpha Delta Law Fraternity and the Black American Law Students Association; she received an award for her work with Catholic's Neighborhood Legal Services Clinic. In 1999, she received an honorary doctor of law degree from the Stetson University College of Law.
Justice Quince demonstrated her grace and humor at the luncheon by suggesting her forced retirement was "termed out because of senility" term limits for 70 year olds are the law for all appointed sitting Justices on their 70th birthday. The FJA could not have a better Perry Nichols Honoree and recipient than Justice A Quince.
2021 Al J. Cone Recipient Julie Braman Kane
Kane's commitment to protecting the right to trial by jury is evident in her more than 20 years of service with the American Association for Justice, the world's most extensive trial bar. A champion of civil justice, she recently served as president of the AAJ and has chaired its National Finance Council, Products Liability Section, Women's Caucus, and Diversity Task Force.
In 2012, Kane initiated and chaired the AAJ's Voter Protection Action Committee, a 50-state program to protect the rights of American citizens whose access to the polls was otherwise restricted and ensure their ballots were counted. She is incredibly proud of what VPAC has accomplished and will accomplish. "State by state, laws attacking voters' constitutional rights are creeping through legislatures," Kane said. "Our democracy depends on lawyers to protect those rights. VPAC and AAJ will keep working as long as voters' rights are under assault."
Through the years, the AAJ has honored Kane with its prestigious Distinguished Service Award, Howard Twiggs Commitment to Justice Award; Marie Lambert Award for leadership; and Joe Tonahill Award for legal excellence. In addition to her national service with AAJ, Kane has served as a trustee and co-chair of the National College of Advocates, on the board of directors for the Florida Justice Association, as a commissioner on the Florida Elections Commission, and as president of the Miami-Dade Chapter of the Florida Association for Women Lawyers.
When not practicing law, Kane enjoys spending time with her husband Jeffrey Kane, a dentist in North Miami Beach, their three children, and two rescue dogs. "We have plenty of friends who are lawyers," she added. "It's a pleasure being around professionals who love what we do."
A double 'Cane, Kane has maintained strong connections to Miami Law through the years. In 2010, Miami Law honored her with the Alumni Leadership Award, given to attorneys who have distinguished themselves in their careers and serve as role models for the next generation. Kane now serves as president of the Law Alumni Association and is on the 2021 Homecoming Committee. "When everything shut down last year, many students lost their jobs, and summer positions disappeared," she said. "Our alumni organized a massive outreach, hiring students and funding fellowships. I am so proud of our alumni for doing our part to get today's students to a position to become transformative members of the law community."
2021 B.J Masterson Recipient Leslie Kroger
Ms. Kroeger is a highly accomplished trial attorney who began her legal career in the courtroom as an Assistant Public Defender for the 18th Judicial Circuit of Florida and later became an Assistant State Attorney in Miami-Dade County, Florida. She then moved into private practice where she continues to handle a variety of complex civil litigation before state and federal courts in Florida and nationwide.
Ms. Kroeger currently serves as the President of the Council of Presidents for the American Association for Justice (AAJ) and is honored to represent the Council on the AAJ Executive Committee. She is also a Past-President of the Florida Justice Association (FJA), one of the nation's premier plaintiffs' trial associations. She was the second female President in the history of the association.
2021 Jon E. Krupnick Recipients Judge Bertila Soto and Judge Jennifer Bailey
Judge Soto and Judge Bailey were nominated and selected for the award for their tireless work over many years to advocate for, and see to completion, the building of a new civil and probate courthouse for the residents of Miami-Dade County.
Judge Bertilla Soto received her B.S. degree from Florida International University in 1986 and her J.D. degree from the University of Miami in 1989.[1] Soto began her career in 1987 as a law clerk for the Law Offices of Osvaldo N. Soto, Esq. She began her career in the Dade County State Attorney's Office in 1989, first as a legal intern and, later that year, as an assistant state attorney in the Misdemeanor Division. In 1992, she joined Osvaldo N. Soto's firm as an associate. She then served on the Miami-Dade County Court from 1997 until she was appointed to the 11th circuit court in 2002.
Judge Jennifer Bailey has taught for the Florida New Judge's College, Florida's Advanced Judicial Studies College, Conference of Circuit Court Judges, and Florida Bar. She was the dean of the Florida College of Advanced Judicial Studies from 2000 to 2005.
Bailey joined the circuit court in 1993. She has also served as an associate judge on the 4th District Court of Appeal (1999, 2000, 2002, 2004) and the 2nd District Court of Appeal (2006)
2021 S. Victor Tipton Recipient Maegen Peek Luka
Maegen Peek Luka practices law because she is driven by a desire for justice. When lives are torn apart, Ms. Luka takes great pride in compassionately helping families and individuals try to put the pieces back together while seeking legal redress against companies who put financial gain over the safety or security of human lives. Ms. Luka is unafraid to tackle large, complex cases and legal issues. She applies her focus and determination to every case on which she works.
Ms. Luka performed her undergraduate studies at the University of Florida, where she earned a 4.0 grade point average while majoring in English and minoring in Mass Communications. She then attended the University of Florida College of Law on full scholarship where she graduated second in her class. While in law school, Ms. Luka was Symposium Editor for the Florida Law Review and served as a research assistant to two professors. For her academic accomplishments, she was awarded membership into the Order of the Coif and won book awards in civil procedure, criminal law, negotiations, mediation law, property law, and trial practice. After law school, Ms. Luka clerked for the Honorable Emmett R. Cox on the Eleventh Circuit Court of Appeals.
After her clerkship, Ms. Luka joined private practice at a nationwide firm, where her practice focused on suing insurance companies that would not pay on high-end disability insurance policies. After several years of being a litigator, Ms. Luka joined an appellate firm where she both handled appeals and supported trial lawyers in the courtroom with her appellate expertise. Ms. Luka now brings both skill sets, that of a litigator and an appellate lawyer, to her practice in representing the injured.
In 2019, Ms. Luka was awarded the "Defender of the Realm" award by the Tampa Bay Trial Lawyers Association for her tireless appellate efforts to protect the recoveries Medicaid recipients receive in their personal injury lawsuits or settlements.
In her free time, Ms. Luka is an active member of her church and volunteers as a Troop Leader for her daughters' Girl Scout troops. As a woman born and raised in Florida, she enjoys all the state has to offer, from taking her daughters to theme parks to enjoying our many beaches. She also enjoys travel, watching movies, and reading.
About the FJA
The Florida Justice Association (FJA), is a group of 2500+ lawyers and legal experts dedicated to strengthening and upholding Florida's civil justice system and protecting the rights of Florida's citizens and consumers. In 2021 and for only the third time in their illustrious sixty-year history a woman was at the helm and leading the way for Justice, president Tiffany Faddis, an established Orlando personal injury lawyer. The FJA is a political action committee, one of only a few PAC's that focus on ensuring the doors of the Florida civil justice courts remain open and Floridian consumer's civil rights continue to be protected. The FJA's mission is to make sure that the seventh amendment is alive and well in Florida and that their citizens who have been injured through no fault of their own have the chance to bring an action against the injuring party in a civil Florida court.

Sources:
https://www.triallawyerportrai...
https://www.legacy.com/us/obit...
https://www.krupnicklaw.com/ou...
https://www.tampabay.com/archi...
https://abawtp.law.stanford.ed...
https://www.floridasupremecour...
https://mtmp.com/speaker/maege...
https://ballotpedia.org/Bertil...
https://ballotpedia.org/Jennif...
https://www.cohenmilstein.com/...
https://www.colson.com/persona...
https://abawtp.law.stanford.ed...
https://www.floridasupremecour...